Andrew Martin, DMD
Dr. Martin graduated from the University of Florida with honors, earning a dual bachelor's degree in Microbiology and Chemistry. He went on to attend the University of Pittsburgh School of Dental Medicine, where he graduated with honors and joined Omicron Kappa Upsilon — a prestigious national dental honor society in which members are selected from the top 20 percentile of the graduating class, show potential for professional growth, and serve as examples among their peers.
Distinguished in his academic accomplishments and professional awards, Dr. Martin earned a mastership in the Academy of General Dentistry, a distinction held by less than 2 percent of dentists throughout the United States. He currently serves as President of the Florida Academy of General Dentistry, is a member of the American Dental Association, and is a Past-President of the Alachua County Dental Association. Dr. Martin has also earned his Fellowship in the International Congress of Oral Implantologists.
Dr. Martin volunteers his time at the University of Florida's College of Dentistry, the We Care Clinic at Santa Fe Community College, and at various charities around the county.
In his spare time, Dr. Martin is an avid photographer and enjoys sailing. He also plays soccer on the Gainesville Regional Soccer League.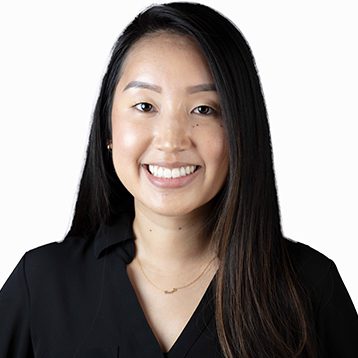 Natalie Pan, DMD
Dr. Pan was born and raised in Orlando, Florida prior to attending the University of Florida for her bachelor's degree in Nutritional Sciences and minor in Business Administration. She then stayed in Gainesville and obtained her dental degree from the University of Florida College of Dentistry where she graduated in the top 20th percentile of her class.
She is a proud member of the American Dental Association, Florida Dental Association, and Academy of General Dentistry.
Dr. Pan is dedicated to delivering quality dental care and helping patients achieve their dental goals. She strongly believes in listening to her patients' needs and concerns to ensure that treatment is presented in an effective, honest, and comfortable way.
In her leisure time, she enjoys trying new cuisines, doing escape rooms, reading, traveling, and spending time with friends and family.
Danielle
Danielle "Dani" is from Indiana and moved to Florida in 2000 to attend college. She met her husband while at school and they were married in 2011. In March 2015, Dani and David welcomed a daughter, Lacey Anne and September 2021 a daughter, Blakely Kaye. Dani loves being a mom and Lacey makes sure she stays busy at it.
Dani graduated from Santa Fe College and graduated with her Bachelors from the University of West Florida. Her super power is that she is amazing baker and an excellent cook.
Dani takes great pride in redefining customer service.
Tracey
During her senior year of high school, Tracey began dental assisting in the afternoons. She is certified in Radiology and then obtained her Certified Dental Assisting Certificate and Certified Orthodontic Assisting Certificates.
A dental assistant for over 30 years, Tracey is from Keystone Heights, FL. She married her husband, Erik, in 1996 and they have two daughters Alex and Gabriella. Tracey also has a stepson and her three granddaughters: Tinley, Zoey and Breelyn. Tracey and Erik have adopted their niece and nephew, and their favorite thing to do is to spend time together as a family.
Tracey love interacting with patients and has a calming and professional presences that sets patients at ease with her southern charm.
Theresa
Theresa was born in Orlando, but raised in a small town in Southern Illinois. She's been married to her high school sweetheart for 15 years and they have two children together.
Theresa graduated from John A. Logan with her dental assisting certificate and then became a dental hygienist in 2013.
In 2016, she returned to Florida with her family to be a part of Vida Springs Church. She loves traveling, going to the beach, hiking the local trails, kayaking in the springs, and playing board games. She also enjoys reading, music, and baking.
Oliver Martin
Patient Relations Representative